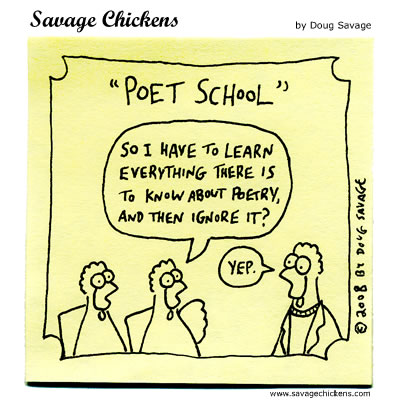 Poets on Teaching
edited by Joshua Marie Wilkinson, a (very) new book, published by the University of
Iowa Press
, promises to be
"
a catalogue of invention: visionary,
pragmatic, surprising, fun—useful because it's inspiring and vice versa." I have read books that make a similar claim, and I'm wondering how this one might be different (I'll be ordering my copy soon, and will let you know).
Books like these can either be helpful resources for teachers at all stages, or venues for nepotistic communities to engage in self- congratulatory conversation.
(Think pages of confessional poetry translated into name-dropping prose.) Even worse, some books in this category include buckets of essays that make the instructor/poet the epicenter of the pedagogy, rather than poetry. I am particularly interested in the "pragmatic" part of this book. Although I'm not currently teaching a poetry workshop or a literature course, I have in the past and will in the future, and would love to hear how creative writing pedagogy has changed since the implementation of the traditional workshop model and the Formalists' "close reading" approach to teaching poetry. Some practical and compelling writing on the practice of teaching poetry in an innovative way is necessary if we want to keep poetry in the classroom (and, even more so, if we want poetry to be taken seriously).
A book I'm particularly interested in, and perhaps hasn't been written yet, is one that pulls for poetry as a relevant discourse in English departments' pedagogies: when can poetry (the reading or writing of it) leave the workshop environment and enter the composition class? What are some lessons that instructors have found useful or even disastrous?
How can instructors weasel poetry into their first-year writing curriculums (and still fulfill those pesky SLOs)? How is the "workshop" model evolving, and can it work outside of creative writing? What is the value of creativity--past, present, and future--in higher education? My questions pile up everyday, and I'm constantly asking new ones as I continue teaching. I'm sure other MFA and PhD students and graduates (i.e. new instructors) share my desire to read a collection of essays, course materials, sample lessons, products of lessons (student work), and syllabi by actual teachers. With media-labs and computers in classrooms (in universities that can afford such luxury), there is so much more we can do with our creativity than a decade ago (when my generation first entered college).
So maybe this post isn't about the book Poets on Teaching, or the books before it. Maybe this is a post about the need for more interest on practical implementation and preservation of creativity in the classroom. Maybe there needs to be a global website dedicated to instructors sharing information--rather than instructors boasting about their successes--that is "
useful because it's inspiring and vice versa."
To buy
Poets on Teaching directly from the publisher, click here.